2022 Andobil New Upgraded Long-arm Car Phone Holder
2022 New Upgraded Long-arm Car Phone Holder

Co-branded by Andobil & 3M. Firmly gather and Stronger together, giving you the most firmly and flexible driving experience!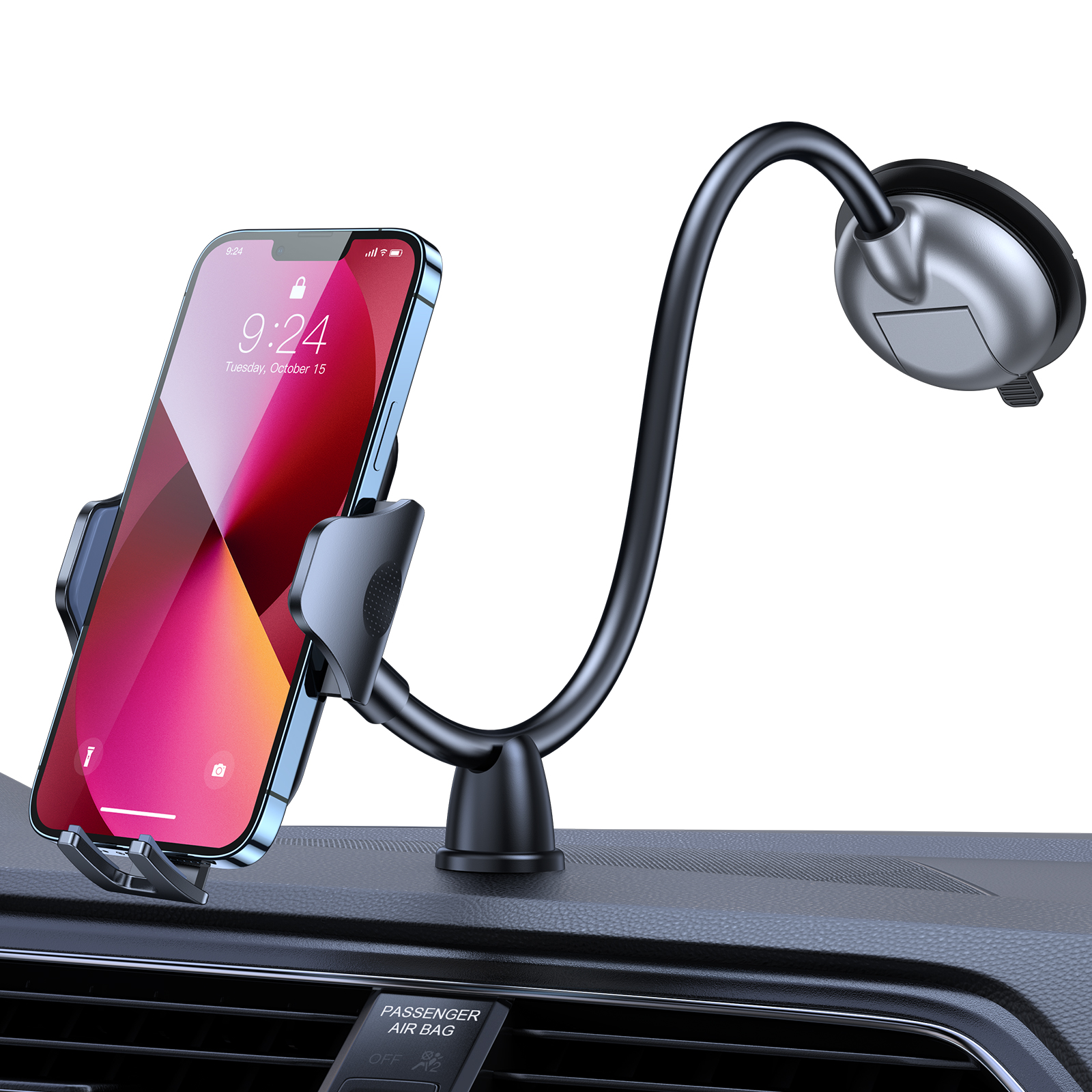 [Upgrade highlights]
[Excellent & Patented 3M Sticky Disk]

[Military Grade Rugged Firmly]

[Adjustable Bottom 360° Rotation]
[Former Long Arm Car Mount]
Leaves marks on the glass when removed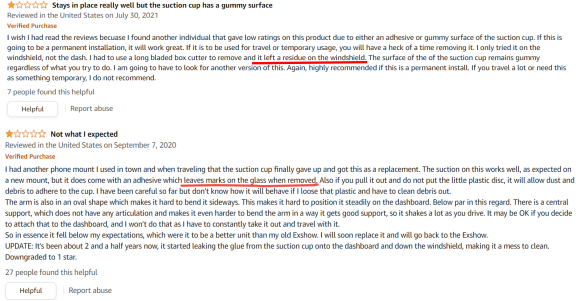 Clamp loosens & Phone Falling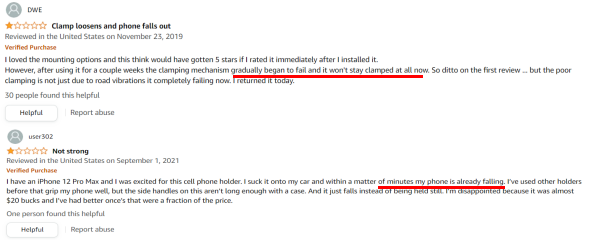 Not strong enough & Hard to adjust

The long-arm car phone holder on the market have the above situation, which brings a very bad experience to drivers. So our product designers and managers invest a lot of time in improving product performance, delving into the research of materials. Try to figure out the best material for the car phone holder, and give a wonderful experience to drivers.
[Upgrade details]
I Co-branded with 3M
Have you ever experienced a situation where the phone holder fell off because the weather was too hot? It's really dangerous in this situation when you drive a car. We are concerned about it also. So we use the first original sticky disk jointly developed with 3M. The service life is 10 times longer than the previous sticky disk and has excellent durability.
This high-quality VHB material provides 65 lbs of stickiness and weather resistance from -40~212℉. Extremely high quality is jaw-dropping. You don't have to worry about the heat and melting due to the weather, and the problem of falling off. In the hot summer, the stickiness will never disappear, put on the phone and go.
II Unique petal base
Actually, the sticky disk we used before was not fully compatible with the dashboard perfectly and doesn't work well on some specific models. So that we used the unique petal base, which is one of the few on the market. It can fit your car's dashboard or windshield perfectly! It adjusts to the same curvature as your car's dashboard and fits securely on your dashboard without leaving any gaps. Huge design upgrades open up huge new possibilities!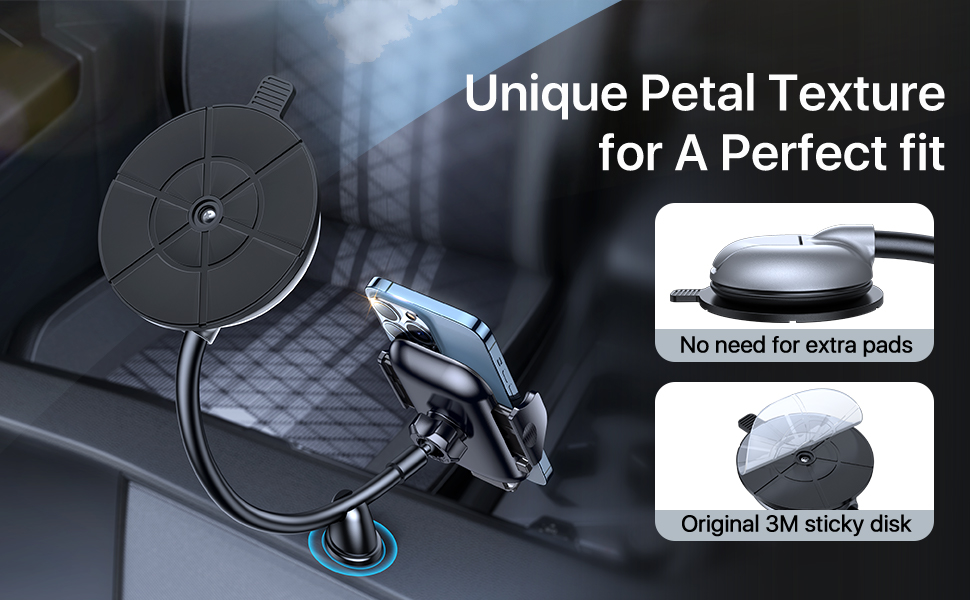 III [Hold Your Big Phone Firmly]
Is your phone Samsung Galaxy S22 or iPhone 12/13 pro max?
As you read before, the clamp of car phone holder is loosening & not strong enough in the market and also unfriendly to large size phones. So we upgrade our phone holder, which makes of Military-Grade Sturdy and can wrap your big phone securely. And the adjustable foot can expand the size of the phone holder, making your big phone more comfortable.
The Anti-Shake Stabilizer provides greater stability for the car phone holder. Even this little part would enhance 3 times stronger of the car holder's stability. The Airbag side silicon clamp on the arms on both sides of the phone stand can hold your phone and these embracing arms can also make it firmly. No matter on bumpy roads, the phone will stay in a place of protective bottom support. Besides, no need to remove the phone case when you using it.
The biggest bright spot of the holder is the release button. Only in 1s, you can release your phone and take it and go.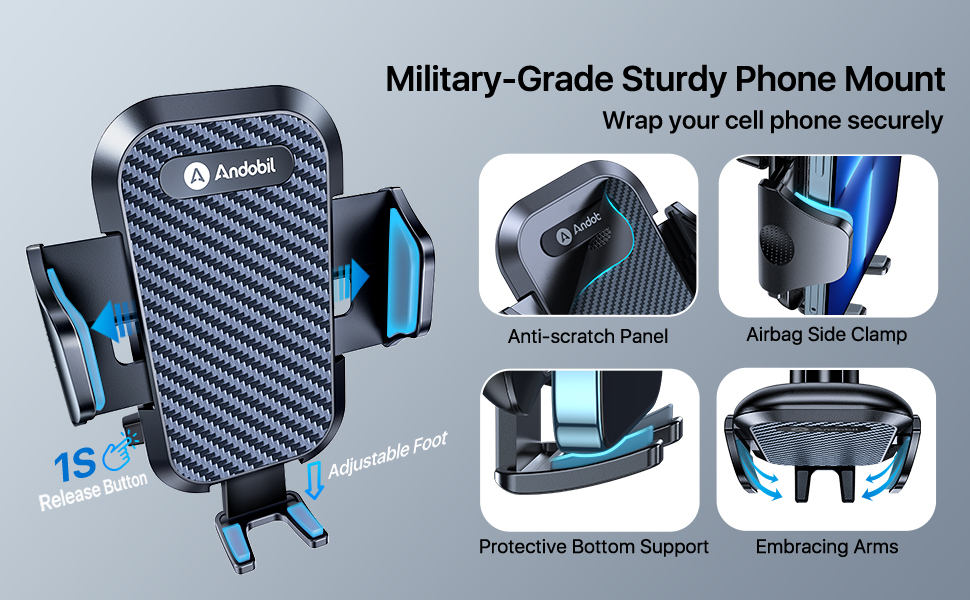 IV [Horizontal 360° adjustment]
When you want to reach out and tap your iPhone to play music, but find you can't reach it?
It will also annoy me very much in fact. You need to lean forward to reach your phone. Our product center designer is also deeply affected by it, so they lengthened the arm to 13 inches long and it will help you get close to your phone. And they make the arm material with high-quality PTFE aerospace material which makes the arm more flexible while ensuring solid.
Besides, you can shape the arm whatever you like, come and boost your creativity! We use the first new color iPhone space grey. This is unlike all car phone holders on the market, it can better reflect your individuality taste.
V [Authoritative certification]
Almost all our products have the Certificate of Analysis & Safety Information & Certificate of Compliance. You can always trust Andobil.